A plan to introduce minimum pricing for alcohol has passed its first hurdle in the assembly.
Assembly members backed the general principle of the law in a vote in the Senedd on Tuesday.
Health Secretary Vaughan Gething said evidence from other countries showed a link between price and consumption.
He told AMs in a Senedd debate that a minimum price for alcohol would help end "the sad spectre of people who die from drink".
But he warned minimum pricing would not work "in isolation" and promised and extra £1m for health boards to tackle substance misuse.
This is amid fears some alcoholics may switch to drugs if prices were increased.
A total of 47 AMs backed the general principles of the bill, with six against and one abstention.
It means the Welsh Government's Public Health (Minimum Price for Alcohol) (Wales) Bill has passed the first stage of its journey through the assembly and will now go on to detailed consideration by assembly committees.
If passed by the assembly later in 2018, the measure should take effect 12 months after the bill's royal assent.
Alcohol price law plan passes first hurdle
"Wales, like so many other western countries, has a problem with cheap, strong, readily-available alcohol," Mr Gething said in the Senedd chamber.
Echoing the findings of the assembly's health committee earlier in March, the minister said minimum pricing was "not a silver bullet" but would be "a major new and important tool in our approach to reducing alcohol consumption".
"By introducing a minimum price, we can make a difference – as we have done with the smoking ban – which demonstrated our determination to create a different future for the people of Wales.
"I've been very clear that it will not work in isolation. Alcohol policy in Wales requires a variety of approaches, which taken together, can generate change."
He added the bill would not include a specific price for a minimum unit as he wanted it to "remain flexible and able to respond to changing circumstances".
He said he would consult on a proposed price which would then be put before the Assembly for AMs to agree on.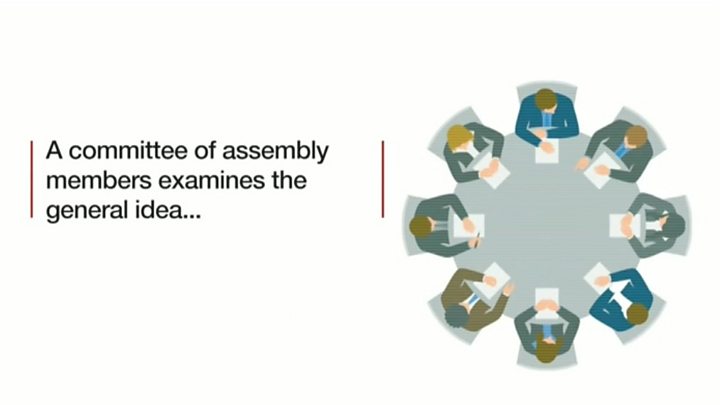 Staff at the Huggard Centre, a Cardiff-based homelessness charity, are among those who have raised concerns at the impact of minimum alcohol pricing on the most vulnerable people.
Chief executive Richard Edwards gave a warning in February, saying: "Raising pricing alone, for legal drugs such as alcohol, may simply change one addiction for another and condemn people to a more entrenched and desperate life on the streets."
The Welsh Government said it spent nearly £50m a year supporting people who misused substances.
Ring-fenced money for health boards to tackle the problem was being increased by nearly £1m to more than £18m.
Alcohol-related hospital admissions cost the NHS in Wales about £120m a year, the Welsh Government added, with 504 deaths in 2016.
UKIP's Caroline Jones opposed the bill when she spoke in the Senedd debate.
She said increasing tobacco prices had not seen a decrease heavy smokers, "it just makes them poorer".
She said the largest group of binge drinkers were "middle-aged high earners" and the bill would be unfair on the families of less well-off drinkers resulting in "children going without and having a much poorer quality of life".
'Caveats'
Welsh Conservative AM Angela Burns said her party would be backing the bill, but with "a very long list of caveats and concerns that we would like to see addressed over the coming stage".
She says "we have to be crystal clear as to what the gains will be from passing legislation that is targeted at a very very small number of people".
Dai Lloyd, Plaid Cymru chairman of the health committee, said his party backed the principle of the law, but it expressed concerns that higher alcohol prices could push some drinkers towards other, more harmful substances.
He said the committee was told by users of an alcohol recovery centre that higher prices wouldn't necessarily deter them or they would find alternatives, including turning to drugs such as Spice.
A law allowing a minimum unit price for alcohol was passed in Scotland in 2012 and will be introduced later this year at a level of 50p per unit.