Low-cost smartphones and cheap mobile data mean Indians are now hungrily consuming content over the small screen. And this is opening up a new world of creative freedom for the country's entertainment industry.
Film director Krishna Bhatt says the internet has given her "the power to show exactly the story I want to tell".
She has made two web-based shows. One of them, Maaya 2, centres around a lesbian love story – a subject that would have been very difficult to get into cinemas or on television in India.
"To show lovemaking in a theatre I will have to go through 10,000 censor rules," says Ms Bhatt.
"My kisses will get cut based on very stupid things. You're not allowed to show something like that even on TV."
While films and television series are governed by strict censorship rules in India, web-based shows have been largely unregulated – so far at least.
"If you can give everything you want to give without anybody breathing down your neck, it's like a new sense of freedom, it's like independence," says Ms Bhatt.
"That's what digital does for you."
Indian prime-time TV is largely dominated by family dramas that often go on for years, featuring thousands of episodes.
This not only limits opportunities for other shows to get on air, but also restricts the kind of stories that can be told.
So actors, writers and directors are enjoying new-found freedoms that online gives them.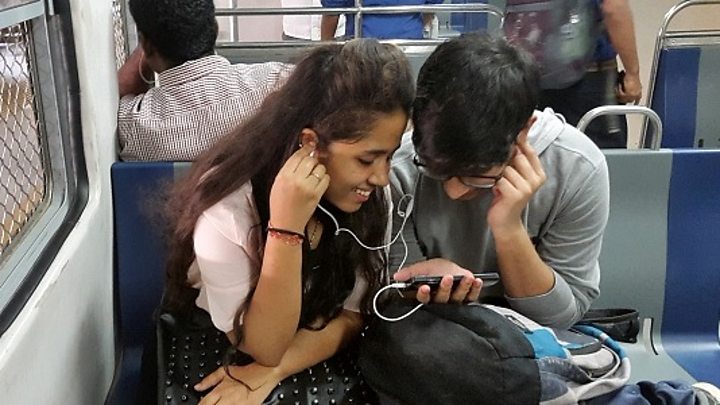 At Chandivali Studio in north Mumbai, for example, they're filming a Hindi language show called Apharan (Kidnapping).
It will be a long day – filming began early in the morning and will go on until late in the evening. The race is on to complete the 11 episodes that are scheduled for release in November over ALTBalaji, a web-based video-on-demand platform available in 96 countries.
On an open-air set, built to look like a street market in a small Indian town, Arunoday Singh is playing the lead character in a plot about a former policeman caught in a kidnapping gone wrong.
He has appeared in several mainstream Bollywood movies, but always in smaller roles.
"I've gotten a bit pigeonholed in the Bollywood system for the last four to five years," he says. "I didn't become a big star, but neither am I unknown.
"So casting directors feel like they know what I'm capable of and they don't even give me an audition."
Online entertainment has opened new doors for him.
Apharan is just one of dozens of web series being made in India this year, as focus has turned to the opportunities presented by web-based entertainment.
"For actors, for writers especially, there's a lot more opportunity now, which is always nice, because it's a very cut-throat kind of a business," says Mr Singh.
Foreign companies see the potential as well, with Netflix and Amazon investing heavily in the Indian market.
But how do any of them hope to make money?
In a mass market like India, where there are more than 300 million smartphone users, subscriptions could be a big revenue source.
"Unlike television, digital is an over-the-top or OTT business, which means it eliminates the distributor or the middle man," says Nachiket Pantvaidya, chief executive of ALTBalaji.
"So you get the entire amount that a viewer pays to subscribe to your content. That is something that is really attractive about the digital business for content producers."
ALTBalaji hopes to reach as many as 200 million viewers. But there are many challenges – getting the pricing right is one of them.
"What is extremely important is that we want to keep our net pricing to the consumer at less than a rupee a day (1p; 1.4 cents)," says Mr Pantvaidya.
"I think that's the point at which individuals will buy into this phenomenon."
Then, it's about making the right content.
"Ninety-five per cent of Indian homes have only one television, so individual choice is restricted. We are not catering to someone who's dropped off television. We are catering to a person who likes to watch something different when he or she is watching it with their family, and something different when the consumption is individual," Mr Pantvaidya explains.
"To define that content and to target it has been a challenge."
More Technology of Business
But this boom depends heavily on mobile data rates remaining low in India.
That's the result of an intense price war in the country's consolidating telecoms industry, with companies like Vodafone Idea, Airtel, Jio and BSNL, fighting hard to attract subscribers. No-one is quite sure how long the mobile operators will be able to sustain such low prices.
But while they do, web-based entertainment continues to give hope to the tens of thousands of actors, directors and writers waiting around in Mumbai for their big break.




By

Source link