The result of Ireland's abortion referendum has no impact on the law in Northern Ireland, the Democratic Unionist Party (DUP) leader has said.
Arlene Foster said the legislation governing abortion is a devolved matter.
She said it was for the Northern Ireland Assembly to debate such issues.
A number of senior Conservative MPs have called for NI's abortion law to be reformed after Friday's historic referendum.
Mrs Foster, whose party is propping up Theresa May's minority government, said a referendum was held in the Republic of Ireland because of the constitutional prohibition that existed there.
She said no such constitutional bar exists in Northern Ireland.
"Friday's referendum has no impact upon the law in Northern Ireland, but we obviously take note of issues impacting upon our nearest neighbour," Mrs Foster said in a statement.
"The legislation governing abortion is a devolved matter and it is for the Northern Ireland Assembly to debate and decide such issues."
Northern Ireland has been without a devolved government for almost 18 months, and several rounds of talks between the DUP and Sinn Féin have ended in failure.
The shadow Northern Ireland Secretary Tony Lloyd said the Labour Party wanted to ensure that women in the north had access "to safe and legal abortion".
He said the preferred route to do that was through the Assembly in Northern Ireland.
"That's our preferred route, for the Northern Assembly to work to that end," Mr Lloyd said.
"At the moment of course the Assembly isn't working and it means we've got to examine what the options are that really do exist."
Dr Sarah Wollaston, chair of Westminster's health committee, said women in Northern Ireland should have the same rights as other UK residents.
Northern Ireland's abortion law is more restrictive than the rest of the UK.
Downing Street is understood to believe that any reform "is an issue for Northern Ireland".
Prime Minister Theresa May is facing pressure to act after Ireland voted to end its abortion ban in Friday's referendum.
But a Downing Street source said it showed "one of the important reasons we need a functioning executive back up and running".
Northern Ireland has been without a government since January 2017, after a power-sharing deal between the Democratic Unionist Party (DUP) and Sinn Féin collapsed.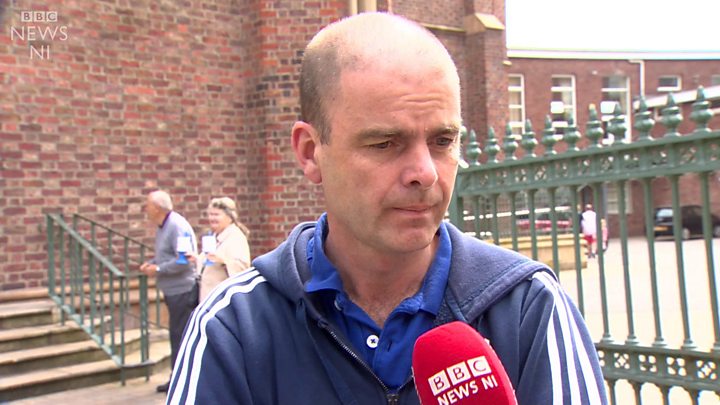 Mrs May tweeted on Sunday: "The Irish Referendum yesterday was an impressive show of democracy which delivered a clear and unambiguous result. I congratulate the Irish people on their decision and all of #Together4Yes on their successful campaign." – PM @theresa_may #repealedthe8th"
Mrs May's major headache
By Jayne McCormack, BBC News NI political reporter
At Saturday's results announcement in Dublin Castle, Sinn Féin's Mary-Lou McDonald and Michelle O'Neill held up a sign saying: "The north is next".
But the other main party in Northern Ireland, the DUP will be fiercely opposing moves from Westminster or elsewhere to bring about change.
The party has deep religious roots and has always said that any relaxation in NI's laws could bring about abortion on demand. It has many supporters who feel the same.
Nonetheless, the issue is out of Stormont's hands due to the continuing stalemate – and pro-choice campaigners will be focusing their fight at Westminster, which presents a major headache for the prime minister.
Theresa May will have to walk yet another political tightrope.
She won't want to upset the DUP and risk her parliamentary majority – especially at such a crucial time in the Brexit negotiations – but the growing pressure from within her own party and across Parliament on this issue means she will have to do something.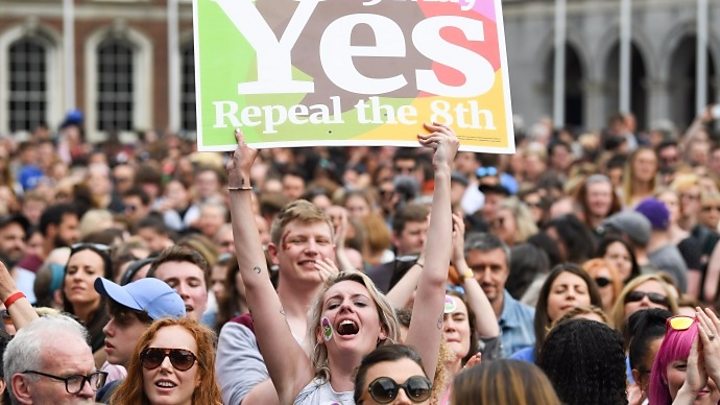 Speaking on BBC Radio 5 live's Pienaar's Politics programme, Dr Wollaston said she and other MPs in favour of abortion reform would put forward an amendment on the issue to Westminster's Domestic Violence Bill.
However, she said she was not sure if the amendment would be accepted for debate as abortion would normally be a devolved issue for Stormont to decide on.
The Women and Equalities minister Penny Mordaunt, and her predecessors Amber Rudd, Justine Greening, Nicky Morgan and Maria Miller, have also called for reform of Northern Ireland's abortion laws.
Liberal Democrat leader Sir Vince Cable has said Mrs May should take advantage of the current lack of a devolved administration and push for reform from Westminster.
"The position in Northern Ireland is now highly anomalous and I think, probably, action will now have to be taken," he said.
Sinn Féin leader Mary Lou McDonald said she did not want Westminster to legislate for abortions in Northern Ireland, but she argued that Irish law should apply to women from Northern Ireland.
"I couldn't envisage a situation where women from the north would be precluded from accessing services here in the south," she said.
Northern Ireland's abortion rules
Currently, a termination is only permitted in Northern Ireland if a woman's life is at risk or if there is a risk of permanent and serious damage to her mental or physical health.
Rape, incest and fatal foetal abnormalities are not circumstances in which an abortion can be performed legally.
A fatal foetal abnormality diagnosis means doctors believe an unborn child has a terminal condition and will die in the womb or shortly after birth.
However, anti-abortion campaigners argue that doctors cannot accurately predict death, saying that terminally-ill babies "can and do defy the odds".
There is no restriction on travelling outside Northern Ireland to seek a legal termination in another jurisdiction.
Last year, the Westminster government introduced measures to help women from Northern Ireland access free NHS abortions in England.
Why are Northern Ireland's abortion laws different?
Anti-abortion group Precious Life said the result of the Republic of Ireland's abortion referendum marked the "most tragic day in Irish history".
Bernadette Smyth said the result would only "spur on" anti-abortion activists to step up their battle to protect the unborn north of the Irish border,
"Northern Ireland is now the beacon of hope to the pro-life movement around the world," she said.