Ahead of the budget, the public would like to see the end of austerity – but are unconvinced the prime minister will deliver it.
Four in 10 (41%) think ending austerity now would be a good thing, compared with 14% who believe it would be bad and 26% who say it would be neutral, according to a Sky Data poll.
But just 15% of people believe Theresa May when she says the government will end austerity – 58% say they do not believe her, with 27% answering don't know.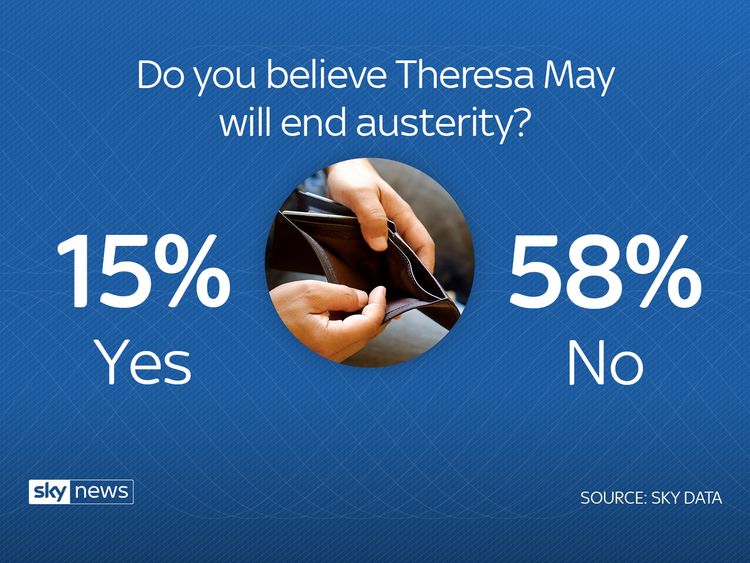 Even her own voters are disinclined to believe her – more Conservatives say they doubt she will go through with it (33%) than believe her (30%), with the largest proportion of Tory voters answering don't know (37%).
Among those who voted Labour in 2017, just 4% believe her, with 78% saying they do not.
The prime minister claimed she would end austerity at the Conservative conference earlier this month, saying "a decade after the financial crash, people need to know that the austerity it led to is over and that their hard work has paid off".
Britons are not convinced that there has been a benefit to austerity, however.
Four in 10 (40%) think the country is in a worse position now than it would otherwise have been because of austerity, with just 21% saying austerity has left us in a better position now, while 18% say it made no difference either way.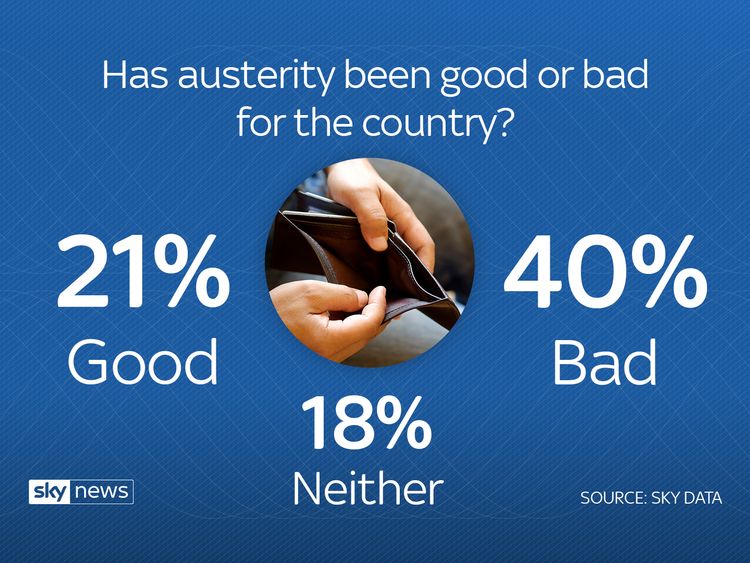 Chancellor Philip Hammond has been under pressure to find extra funding for universal credit in the Budget – particularly given Mrs May's rhetoric regarding austerity.
Universal credit combines six current benefits into one monthly payment, but a Sky News Line 18 investigation showed the roll-out has been linked with soaring rent arrears, evictions and food bank use – and the Work and Pensions Secretary Esther McVey has confirmed some people will receive less under the new system.
Public opposition to universal credit is hardening, with 41% saying it is a bad policy, up six points since we last asked about it in November 2017 – 19% say it is a good policy, down five points.
And 40% think there should be more funding for universal credit, with 19% saying it should get the same funding as now, and 10% believing it should get less funding.
The Conservatives and Labour are neck-and-neck with regard to who people would prefer to manage the economy – traditionally a Conservative stronghold.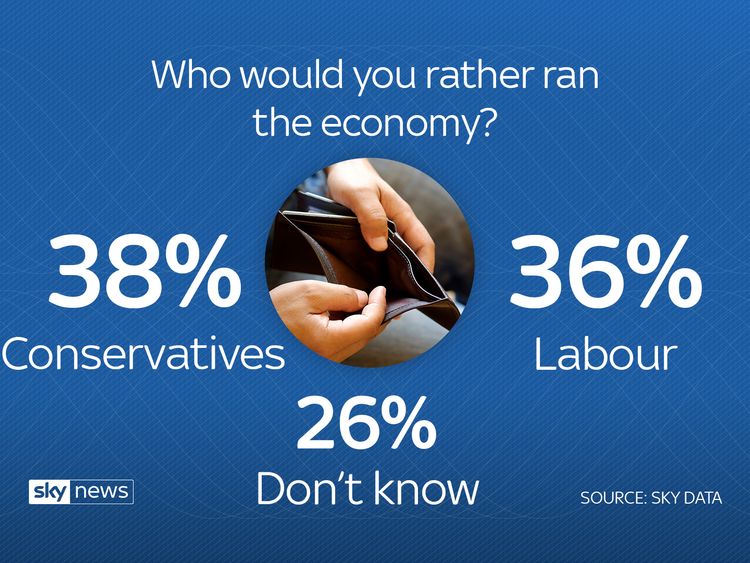 Both parties are backed to run the economy by fewer people than when we last asked a year ago – 38% would prefer the Conservatives, down five points, and 36% would prefer Labour, also down five points, giving an unusual 10 point boost for 'don't know'.
Perhaps explaining this, the majority of people think both main parties and their leaders are incompetent to run the economy.
Most Britons do or would not trust Theresa May (50% incompetent, 40% competent), the Conservative government (50% incompetent, 40% competent), Labour leader Jeremy Corbyn (53% incompetent, 34% competent), the Labour Party (51% incompetent, 37% competent) or shadow chancellor John McDonnell (41% incompetent, 32% competent) to run the economy.
There is a silver-lining for Mrs May – her chancellor is the only politician to have more people saying he is competent (44%) than incompetent (34%) to manage the economy.
Sky Data interviewed a nationally representative sample of 1,003 Sky customers online 19-23 October 2018. Data are weighted to the profile of the population. Sky Data is a member of the British Polling Council and abides by its rules.
For full Sky Data tables, please click here.
:: Watch the budget live on Sky News at 3.30pm on Monday
By

Source link